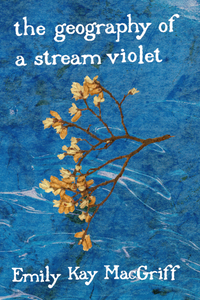 Poetry, chapbook, 20 pages, from Bottlecap Features.
the geography of a stream violet is the end of a series investigating the evolution of self and place. This collection tracks the dreamscape of a postpartum world. It seeks to bring this dreamscape to the waking sphere in a compact space. It is an attempt to physicalize how memory and identity change relative to distance and consciousness.

These sixteen pieces plus the title poem are in conversation with 'you' as a conduit for marrying states of being, the sleeping and waking selves. They shift in length, form, restraint and tone mimicking the ebb and flow of a woman's postpartum body. The language responds to shifts in awareness and ownership. It is an exercise in trying to find balance and rhythm.This collection serves as a trail of sticky notes along the close of a reproductive experience and chapter in life.

Emily is a writer and bookmaker living in Detroit. Her work pulls from a time working aboard expedition vessels as a wilderness guide/naturalist in the polar regions, South Pacific and British Isles. She's mostly retired from ship-based work and focused on navigating life as a woman, artist and mother. In 2022 she earned an MFA in Writing from the School of the Art Institute of Chicago, founded the MacGriff Writing Studio and joined the MA/MFA Design for Climate Action faculty at the College for Creative Studies. Emily's work has been published in Australia and domestically.