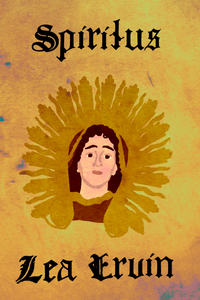 Poetry, chapbook, 20 pages, illustrated, from Bottlecap Features.
Spiritus is a year-long undertaking in which the author documents different moments of a decade-long faith crisis. Each poem represents a pivotal feeling, memory, or thought in which Lea earmarked as a paramount moment when she questioned, believed in, or lost faith in God. Instead of deconstruction or reconstruction, this body of work simply reflects a state of being within Lea's spiritual journey.
This collection is chronological but not cohesive, as her spiritual journey is still a work in progress and with more gaps to fill in. Poems are meant to be read as more of a moment in time versus a complete telling of the continuing narrative. Each piece of art is meant to reflect the moment experienced by the author. 
Lea Ervin is a writer, poet, artist and writing instructor from Alabama. She holds a B.A. in English from Harding University and a M.A. in Professional and Technical Writing from the University of Arkansas-Little Rock. Her work centers around living with chronic pain, anxiety, and OCD. She lives in Oneonta, Alabama with her husband Brad White, and their Beagle-mix, Starla Belle.