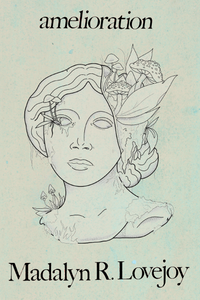 Poetry, chapbook, 28 pages, illustrated, from Bottlecap Features.

amelioration is an act of betterment. It is a space for improvement, for growth. amelioration is situated in the low places of life, representing an honest depiction of mental illness and chronic pain, and works to show how healing and progress take place over time.

By utilizing the dichotomy of city life and nature, this chapbook reveals changes in states of being. It tracks the seasons and shows that progress isn't linear, that medications and therapy don't always work, and that healing takes time.

amelioration shows the best and worst sides of living with physical and mental illness, highlighting the hope and desperation one feels when things change for the better.

Madalyn R. Lovejoy (she/they) is a part-time data entry & compliance specialist studying Psychology and Gender, Women's, & Sexuality Studies at the University of Iowa. She spends time volunteering at the local Women's Resource and Action Center and plays D&D with her friends. Their work primarily touches on mental illness, chronic pain, and the natural world. Published work can be found at Argotist Online Poetry, Delicate Friend, sage cigarettes, Wishbone Words, and Boundless Magazine. They can be found anywhere @mad.lovejoy.