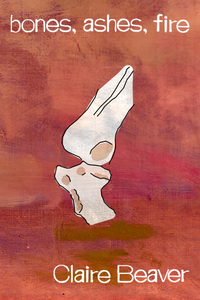 Poetry, chapbook, 24 pages, from Bottlecap Features.
bones, ashes, fire explores the surreality of being alive on this Earth. It asks questions about who we are behind closed doors, what we think about when no one is there. The connection between the corporeal and the intangible rings true, as the poems navigate the space we occupy in the middle of it all.

This collection takes inspiration from the universal need that is connection. Also, from dirt. bones, ashes, fire is Claire Beaver's debut poetry collection.
Claire Beaver is a multidisciplinary writer living and working in New York. Her work has been featured in Last Leaves Magazine, Outspoken, Victory Lapped, and more. She is passionate about the power of art and how we interact with it in our daily lives, whether that be conscious or not. She recently completed her M. Phil in Creative Writing at Trinity College Dublin.