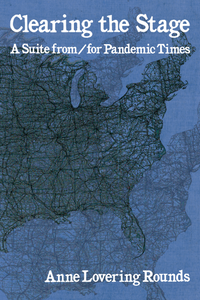 Poetry, chapbook, 36 pages, from Bottlecap Features.
Clearing the Stage is a longform elegy composed in New York City during the unfolding of the Covid pandemic. The suite is in three parts: "Prologue," "Specimens," and "Not / Epilogues." The poems in the "Specimens" section reflect the initial stages of the pandemic in March and April 2020, drawing language directly from Walt Whitman's Specimen Days as well as from 20th-century poets in Whitman's lineage, including Frank O'Hara and Allen Ginsberg. The prologue and epilogue, while filling traditional roles of poetic opening and closure, speak to the nebulous character of the pandemic: the idea that it may always be, in some sense, unknown and unfinished.

The poems in Clearing the Stage do not seek to "heal" the complex traumas inflicted by the pandemic. Rather, they allow and even instruct readers to sit with dissonance and release. Instead of invoking a lyric "I," the poems attempt to open towards a broader lyric "you."

The title of the suite comes from a collaboration with violinist Carson Marshall, an artist and podcast producer who works to create sound-based spaces of tension and repose. As a literary work, Clearing the Stage has similar motivations. The book invites reader-listeners into a polyphonic elegiac space, meeting a historical moment and its aftermath that call out for inclusive poetry.
Anne Lovering Rounds is an associate professor of English at Hostos Community College, a campus of the City University of New York located in the South Bronx. She is the author of two previous books of poetry: a debut collection, Variations in an Emergency, which received Ravenna Press' Cathlamet Prize for Poetry in 2014; and Little Double Elegy for All of You (Ravenna, 2021). Her work has appeared in peer-reviewed journals including the College English Association Critic, Soundings, and Journal of Beat Studies, among others. She holds a Ph.D. in Comparative Literature from Harvard and bachelor's degrees in English and Classics from the University of Chicago. A committed amateur classical pianist, she is a student of Adam Tendler at Third Street Music School Settlement, the country's longest-running community music school.