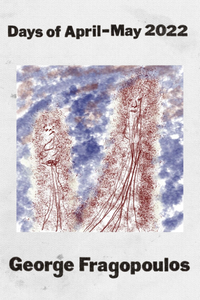 Poetry, chapbook, 36 pages, from Bottlecap Features.
Composed during a month spent traveling in Greece, Days of April-May 2022 is part travelogue, part poet's daybook, part experiment in translation. Deriving its title from Cavafy's "Days of" sequence of poems, this chapbook evokes a number of different traditions and texts—including but not limited to Chaucer's Canterbury Tales, T.S. Eliot's The Wasteland, and Odysseas Elytis's Diary of an Invisible April—in order to explore the contradictions, tensions, displacements, and joyous moments that define the experience of travel during our age of political uncertainty, economic precarity, and environmental degradation. These are poems that find solace in the aesthetic—"I've spent my entire life / running from their liturgies only to love / their frescoes"—while addressing the harsh realities of our time and place: "In front of parliament, in the shadow of / the national cenotaph . . . only meters away from where the pensioner committed suicide." Hölderlin once asked the question: What is the purpose of poets in an age of darkness? These poems suggest some possible answers.
George Fragopoulos is the author of the poetry collection Heretical Materialism: A Pasolini Triptych (BlazeVOX) and the chapbook 14 Poems in 516 Lines (Beautiful Days Press). His translations, poems and prose can be found in the journals Circumference, North Dakota Quarterly, Salamander, Words Without Borders, and Works and Days. Along with Joshua Wilkerson, he runs Beautiful Days Press. He is Associate Professor of English at Queensborough Community College, CUNY, and Associate Professor of Liberal Studies at the CUNY Graduate Center.