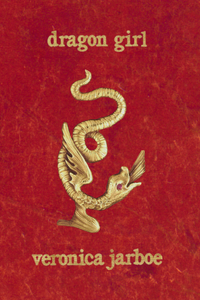 Poetry, chapbook, 24 pages, from Bottlecap Features.
dragon girl is a rich exploration of coming into one's own as a woman. Intense imagery will leap off the page taking the reader on an intimate journey of growth and standing tall amidst life's unkindnesses. This collection uncovers the layers of what it means to become a beautiful creature, who sets boundaries never set before. dragon girl is a rhythmic mosaic of self-worth, change, and difficult discussion around what we believe deserve.

Readers will be reminded of the universal right of the power of self-acceptance, and the art of morphing into one's fullest potential. These intricately crafted words will feel like gossamer echoes whispering into the minds of its audience, sharing the feelings so many experience. It is vibrant with vision, that will leave it's readers wanting more after the last echoes of the final words.
Veronica Jarboe is a California resident, and is the author of the MicroChap collection, i tell the finches with Rinky Dink Press. Some of her other published works can be seen in The Anthology of Young American Writers, Re-Side Magazine, Yours Poetically, Moss Puppy Magazine, The Broken Spine, and Ethel. Veronica is also the author of the full length collection, Sweethearts and Sorrows, and is part of the editorial team for Moss Puppy Magazine.