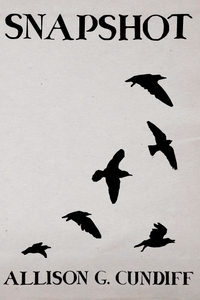 Poetry, chapbook, 32 pages, from Bottlecap Features.
Snapshot is a collection of poems detailing the body moving through space, interacting with animal and insect, intimacy and trauma.

The collection observes conflict and collision in the macabre of the natural world. The external and the personal are sister themes, and ask, like the honeybee, which sisters do we defend? Who do we turn on? And how do we know the difference?

These poems explore looking up instead of around, sitting with terror and not turning away. They ask when to let someone inside of your body and when to let go of other bodies.

Each poem is a story of longing or hate, considering who each of us is when the pollen of others sticks to our skin, who we will unbolt the door to let in, who we will bolt the door to keep out.
Allison G. Cundiff is an English teacher and beekeeper. Her publications include the forthcoming novel Hey, Pickpocket (2024, Jackleg Press) and three books of poetry: Just to See How It Feels (2018, Word Press), Otherings (2016, Golden Antelope Press), and In Short, A Memory of the Other on a Good Day, co-authored with Steven Schreiner, (2014, Golden Antelope Press). She lives in St. Louis.

Connect at allisoncundiff.net