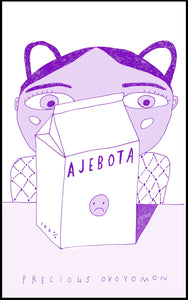 Poetry, chapbook, 40 pages, from Bottlecap Press.
Ajebota is the confessions of little bleeding lamb, babbling milk out of her wound, still reaching for the warmth of the sun. Ajebota is Precious Okoyomon's debut chap and is completely representative of her unique writing style. Okoyomon's poems are sexual, healthy, and full; or moreso an exploration of what it means to be all of these things. Precious Okoyomon's poetry is an exploration of both the body and pure emotion.

"Precious is a raw, instinctual writer with an imagination so visceral it feels real even when it's ridiculous. She's hilarious and heartbreaking all at once."
-Yoni Wolf

"Ajebota is the kind of devoted and intimate writing that succeeds at levels, at taking the personal and making it common. Precious's writing is both tender and difficult, demanding you see it for what it really is, asking you to see beyond the deconstruction of a relationship. Because as she so beautiful put it, when I leak/I leak me."
-Sara Sutterlin

"it disturbs me how on point this collection of writing is. it disturbs me how much i connect with these poems. my computer almost blew up when i was reading this no lie. makes me uncomfortable in the right way. checking me while reading you."
-Alexandra Marzella