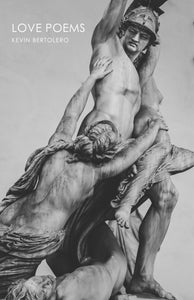 Poetry, chapbook, 40 pages, from Bottlecap Press.

This is a collection of poems about love.
"Reading these poems feels as easy as falling in love, in them Kevin Bertolero allows us to glimpse love in its totality…clear and unmuddled, as if it were the summer sky. There's so much feeling in this chapbook, we're so lucky to feel it all."
-Jack Bachmann, author of dayglo
"Poetry made mostly of cold-breath-clouds-of-prose. While each poem walks alongside their referential companions in 'the gallery of you & I,' they also drift and dream inside a commentary of longing, inviting you join them and be warmed within the wish house,' ('including the people you actively disregard'). For this book is about love, a love larger than the eight Greek words for it, growing on and stretching out, affectionately collecting without objectifying the people or personifying the things. I don't think there is any good place for these poems to stop; I hope they never do."

-Jeremy Boyd, author of Split

"In poems that feel like Polaroids from a lovesick summer, Kevin Bertolero captures the subtle tells of attraction and sure-fire evidence of newfound intimacy. A cavalcade of friends and lovers inhabit these poems, the kinds of boys who possess filmic qualities, as relayed to us by a speaker well aware of the all-consuming nature of desire: "I wanna write poems that aren't about love, / but how?" Bertolero's writing is imbued with the emotional topography of a Frank Ocean song and the open-hearted jouissance of a Frank O'Hara poem—every page of this book is a pleasure."

-William Ward Butler, author of Life History

"What does it mean to love? Blogs, the Bible, and bell hooks have all taken a stab at this question, and each has arrived at incomplete answers. In Love Poems, Bertolero asks this simple—and terribly painful—question with granular specificity. Reading his work, I am forced to confront love I have received but did not earn—emails that read "I understand, please say nothing else," a simple, knowing "How are you?" at a house party, and the challenges that arise with random kindness.

Bertolero succeeds most vividly when inhabiting the interior life of his subjects, a skill that developed from relaying so many of these narratives first hand. Nowhere is this more apparent than in the opening salvo. Still, his work conveys a knowledge of literature and culture that doubly provides a retrospective, measured approach to the comings and goings of everyday life. Here, he is most prominently in debt to the American poet Frank O'Hara, whose influence pervades Bertolero's aesthetic and literary sensibilities.

Finally, the work collected here captures an astute awareness of time rushed encounters, measured romance, and the growth that inevitability arrives when one packs together three years of writing into a single volume all become apparent."

-Lander Eicholzer, author of Turning 20 Something

"In Love Poems, Kevin Bertolero tells us he is "confident like River Phoenix in a denim jacket" while we stand at the edge of the Atlantic Ocean with a New Hampshire sunset painting our backs whatever color of love we want. Inspired by early-90s Gus Van Sant and arthouse cinema, these poems are Italian villas filled with boys learning to yearn and touch with hesitant fingers, East Coast kids making out under pinkening skies in search of Hollywood representation. Bertolero's words span generations: accessible poems we can project onto any moment of our lives and remember—remember the times when loving someone was easy because we were young and gorgeous, hungry for the taste of a familiar set of lips. In a collection of poems sprawling across a country of tenderness and learning, Bertolero tells us "You think black / is a sad color, but I remind you that it absorbs the light—" and, with intrepid mouths, we swallow every reminder of how quickly we forget about the softness men carry."

-Matt Mitchell, author of You're My Favorite Garçon
Kevin Bertolero is a graduate student at the University of New Hampshire. He is the founding editor of Ghost City Press and is the associate director of the Kettle Pond Writers' Conference. Follow him on Twitter @KevinBertolero.