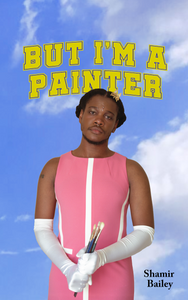 Prose, paperback, 56 pages, illustrated, from Bottlecap Features.
"I was once described by my close friend and frequent collaborator Fiona Campbell as 'cursed with talent.' I could not have resonated with this sentiment more. Many have described me as a 'jack of all trades,' and I guess I would too. Having multiple skills and talents in a world of side hustles and late stage capitalism can feel overwhelming when you're already a full time artist. I started painting as a child before I even picked up the guitar. Although music engulfed my life, painting was always my first love. But I'm a Painter begins with me disillusioned after a rocky descent into the music industry, desperately trying to find a creative outlet that didn't feel immediately exploited. Rediscovering my love of painting helped me get in touch with my inner child and granted me catharsis at times when music and writing weren't enough. But I'm a Painter chronicles my paintings and the stories behind them. It's an insight into the mind of an artist who's scrapbooking their life via a paintbrush."

-Shamir Bailey

Shamir Bailey, known mononymously as Shamir, is an American musician, actor, comedian, singer, rapper, producer, chef, writer, and filmmaker from Las Vegas, Nevada. Since 2015, he has released seven studio albums, including the critically acclaimed 2020 album, Shamir, which was listed as one of Rolling Stone's top 50 albums of the year. But I'm a Painter is his first book.