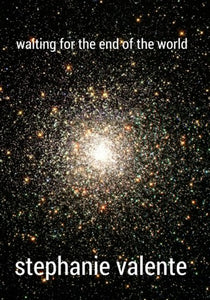 Poetry, chapbook, 28 pages, from Bottlecap Press.
Stephanie Valente's waiting for the end of the world takes places between the world of the living and the dead. Inspired by the major arcana tarot cards, the poems explores the unstoppable forces of urgency, love, sex, desire, longing, and identity.

The poems remember old lovers, ghosts, imagined romances, undefinable urges, truth-seeking, mythology, and dreams of the future.The poems are comfortable asking the gods questions, without necessarily getting a text back.
Stephanie Athena Valente lives in Brooklyn, NY. Her published works include Hotel Ghost, waiting for the end of the world, Little Fang, and Spell Work (Bottlecap Press & Giallo). Featured writing includes Witch Craft Magazine, Maudlin House, and Hobart. She is the associate editor at Yes, Poetry. Sometimes, she feels human. stephanievalente.com