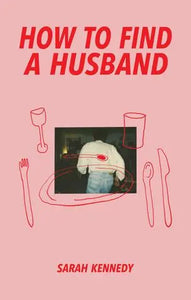 Poetry, paperback, 56 pages, illustrated, from Bottlecap Press.
In 1985, Wendy Stehling offered up a day by day guide to finding love in her book titled How To Find A Husband In 30 Days. After finding Stehling's book buried at a thrift store, Sarah Kennedy's first collection of poems, How To Find A Husband, is part of a larger performance project involving following and documenting this guide. Utilizing corresponding partial photographs from her parents personal archives to create a planned dialogue between the written and the visual, the goal of the overall project boils down to: can intimacy be forced, planned, or controlled?
"How To Find a Husband reads as a gossamer yet temporal choose-your-own-adventure manual which buries its hands into the cognitive dissonance of conjugality, all the while your mother's voice reminding you that the past is speculative at best, and that the future has already happened."
-Kristine Leschper, artist and musician in Mothers
"A squirrelish poem with speeding heart, turning and flipping alongside radiant squares of nostalgia."
-Rachel B. Glaser, author of Hairdo and Pee on Water
"This little book is a bit haunting... the photos often cut off just before they'd become recognizable, and the poems are spare and feel disembodied as well. You may have the sensation you've encountered this object before in a life you can't quite remember. In any case, it is an artifact that demands a close examination."
-Kimmy Walters
Sarah Kennedy is a printmaker, sculptor, and scorpio living in Athens, GA.