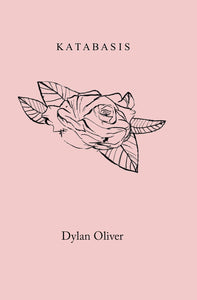 Prose, chapbook, 36 pages, illustrated, from Bottlecap Press.
Katabasis is one heart's erratic journey through the past to gain clarity and closure for the future. It is the descent into the darkness in order to find the light. This story tirelessly wades through the muddy waters of heartbreak, presses on the bruises of confusion, and pulls out the splinters left behind by great loss. It explores intimacy and rejection, new attempts and new failures, and the ever-changing and unpredictable direction of life. One page we're dancing in the kitchen with a lover while making breakfast, and the next we're staring out the window while the garbage truck drives away with their belongings. Some pages we cry, others we sing. Katabasis boldly picks apart the remains of something that once meant everything, and explores the memories that capture the joys and shortcomings of love.
"Katabasis is a bread crumb trail through a forest that burned down years ago. It is an archaeological dig through the aftermath of love. In it, strange relics are unearthed - knotted cherry stems, handwritten final wills, and axes left behind to rust. Blurring the boundary between poetry and prose, Katabasis is an examination of relationships, and the objects and people we define ourselves against. It is a measure against memory, a cataloguing of the weight of the emotions that we keep, and those we must push away. Katabasis is the story of an axe left in the woods to rot, and the strength it took to leave it there."

-June Gehringer, author of I Don't Write About Race

"Dylan Oliver's Katabasis creates a framework for what love means for millennials; the language in these snippets presents pain to its audience in a way that is raw and intrinsically humble. Dylan's chap reflects the ways we fall in love, and how often it becomes its own antithesis within an instant. Katabasis circumvents fresh and authentic discourse in a way that is conscious of the world around it, and how love often reveals itself to be a puppet master in our daily lives."

-Shan Cawley

"Dylan Oliver's Katabasis is a letter in layers. It is a narrative compilation of raw queerness, vulnerabilities, blunt humor, and an uncovering of self. The visual facets are in constant elaborate conversation with the piece's global lyricism—they complement each other in a melodious manner. Dylan zooms in on intimacy with intention in between the lines of her intricately woven timeline. This collection captures the simplicity of the human experience, in its smaller moments, as well as the complexities of the connections that exist within. All in all, it is an in-depth exploration of what it is to recognize one's need to be needed."

-Savannah Slone, author of Hearing the Underwater
Dylan lives and works in Los Angeles, CA & has enjoyed writing as a hobby and means of self expression since childhood. Writing is his favorite way to process life and loves the way words connect people through space and time. Katabasis is his debut chapbook and only published work, but he has plans to continue to write and share his heart's truth with the world.