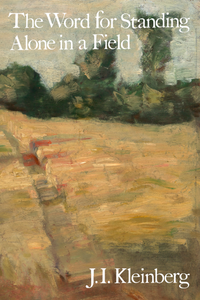 Poetry, chapbook, 32 pages, from Bottlecap Features.
The protagonist of J.I. Kleinberg's collection, The Word for Standing Alone in a Field, is unlikely: a scarecrow. But, as Kleinberg says in the opening poem, his work is "not crows or corn but sorrows." This is no cartoon scarecrow, but a familiar, an empath, loved, mostly at a distance, by a speaker we see only in brief glances. A speaker, we suspect, who may feel safer in the presence of this "placeholder" than among the people and crows who show little sympathy for either. "We practice a kind of ventriloquy," Kleinberg says in the poem "I have been writing about a scarecrow."

The scarecrow, we learn through these brief poems, has a past, a curiosity about the world, memories, and a rich array of emotions. The poet brings to life the shy longing between these two characters and their shared concerns amidst the "vanishing green rows" and "the crow-scattered sky."
A Pushcart and Best of the Net nominee, J.I. Kleinberg is an artist, poet, and freelance writer. Her poetry (including nearly 700 of her found poems) has been published in print and online journals and anthologies worldwide. She lives in Bellingham, Washington, USA, in a landscape dominated by a snow-covered mountain, a broad bay, nearby islands, and an abundance of trees, raspberry and blueberry farms, rhododendrons, and the occasional cornfield. She co-produces the Bellingham-based SpeakEasy poetry reading series, produces a near-daily blog on poetry in Cascadia (The Poetry Department), and was co-editor of 56 Days of August (Five Oaks Press) and Noisy Water: Poetry from Whatcom County, Washington (Other Mind Press). The scarecrow is not her first imaginary friend.