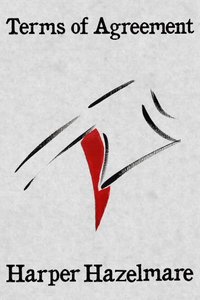 Prose, chapbook, 16 pages, from Bottlecap Features.
A sci-fi thriller, Terms of Agreement delivers a fast-paced punch of what education may look like in the future.

Our narrator descends back into time, fearful of the past and their higher-ups, to stop the next round of bombings in outlying colonies. They grapple with the pain of the past and present—and also the one that got away.

Or did they?

A heartbreaking story of growing up, growing complicit, and growing steadily uncertain of a world in crisis.
Harper Hazelmare (she/they + we/our/ours) is a non-binary, queer botanical artist, writer, and keeper of a community apothecary. They have previously been featured in publications by Lived Collective and The Shallot. When not enjoying the color yellow in nature, Harper can be found experimenting in her home studio with found objects or growing black peppermint for Herbalists Without Borders.