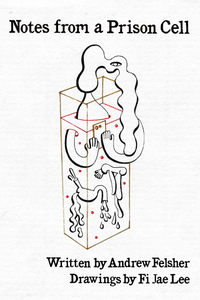 Prose, chapbook, 24 pages, illustrated, from Bottlecap Features.
Notes from a Prison Cell is a story that's part fable and part theoretical. It's an interrogation of the nature of art confronted by humanity and inhuman modes, and the apparatus of contemporary digital systems.

The protagonist (a prison cell) is an art installation that becomes self-aware. Incapable of movement, it navigates its physical-artistic existence while yearning to be heard and meaningful. Is that impossible? Or is the prison cell condemned to exist and function only as a prison cell, incapable of escaping its material construction and the de-humanizing-exploitative entanglements of prison and the carceral state? As the prison cell encounters spectators, all of whom have varying opinions about its purpose and relevance, it finds companionship in a sparrow that abandoned the city and a knowledgeable pebble that was once lodged into the sneakers of an accomplished lecturer who spoke of "the prison of pixels." They all debate what the prison cell needs to be meaningful and understood. An artist statement? Wi-Fi? A more precise theoretical framework?
Andrew Felsher is a writer based in New York City. His fiction and essays have appeared or are forthcoming in São Paulo Review, Fiction Writers Review, LIGEIA, Heavy Feather Review, and other publications. He is the editor of 128 LIT, winner of CLMP's Firecracker Award for Best Debut Magazine.