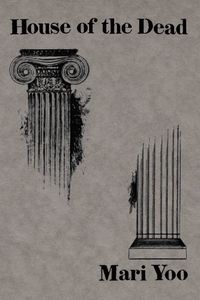 Poetry, chapbook, 36 pages, from Bottlecap Features.
Opening with a young woman freshly arrived in the afterlife, House of the Dead enters the underworld from Greek mythology and never leaves, much like the dead themselves. Across bulleted lists, anthropological notes, encyclopedia entries, and more, the fates of a forgotten bride and a failed musician are pieced together bit by bit.

Mari Yoo's debut poetry chapbook is not just about bringing a modern touch to ancient stories; the driving force across these pages is the effort to humanize the divine and the deceased alike. However, the desire to imagine the famed Orpheus and Eurydice after their myth ends, and what becomes of them when left to their respective eternities, is only half of the journey. The daily affairs and fragmenting marriage of the King and Queen of the underworld, those poor gods overwhelmed by modernity, comprise the second half. Together, they reveal an afterlife as difficult to navigate as the world of the living.

Yet there is beauty in tragedy. As much so as there is hope in Hades.
A student of both fiction and poetry, Mari Yoo (they/she) is an avid fan of all things odd, surreal, and downright spooky. Having grown up in suburban New Jersey, they prefer the thrill of a more urban and literary setting. They are currently pursuing their MFA in writing at Columbia University's School of the Arts in New York. When not starting yet another writing project, Mari can most often be found watching horror films or gushing about said films to friends and family.