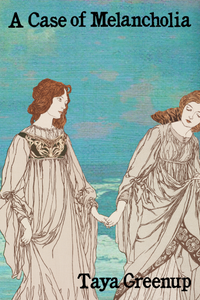 Prose, chapbook, 28 pages, from Bottlecap Features.
Margot Mainfield, at a loss for life, finds herself at Casimir's doorstep. Casimir is a woman of infectious design. A turn in Margot's love life leads her into the house and very bed room of this new woman. But as their love story unfolds, a new haze has taken over the two's existence.
Casimir doesn't know how to love without repercussion and symptoms of their relationship seem to show this time is no different. The longer Margot spends with Casimir, the more the woman slips into melancholia.
Is love really worth dying for? Or do you actually part in death?
Taya is a strong believer in the idea of literature being a cure for the world. Her largest passions has always been writing, starting from her middle school poetry. The idea of Margot came to Taya in the summer of 2019 and since, she has been rewriting this magnificent character through time. Taya's wish for this book is simply to make sense of the indescribable, but also to catch hearts.