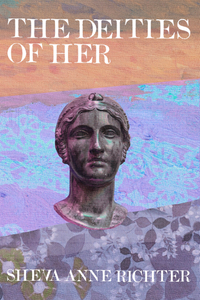 Poetry, chapbook, 24 pages, from Bottlecap Features.
The Deities of Her is my own story told through poems about my later teen years, and my twenties thus far. I compiled these poems while faced with a new diagnosis of a chronic illness; I hid away in my room and pounded out my feelings on my laptop's keyboard. Out of that period of isolation came a willingness to write about things I had shied away from talking about, experiences like religious trauma, sexual assault, eating disorders, closeted queerness, failed relationships and more.

Writing this showed me I was finally capable of shedding not only a decade of impostor syndrome, but also a crushing fear of what it would mean for me if I finally told the world that yes, I am supremely flawed, I am hurt, I am adept at loving deeply. I kept my fair share of secret joys and pains and I am ready to hold them up to the light, I am ready to show everyone what it means to be your own imperfect deity, full of mistakes, but worthy of sacrifice and worship.
Sheva Anne Richter is a poet, a hopeful romantic, a proud Jewish woman, a bookworm and an avid watcher of documentaries. She grew up in Southeastern Ohio and continues to live there with her two (spoiled) cats and a bunny. When she isn't writing poetry, she can be found drinking matcha lattes, napping, talking to her friends and family, and crying over things that make her happy.