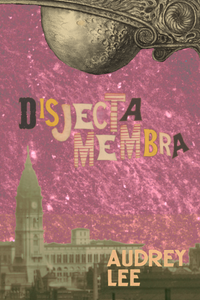 Poetry, chapbook, 40 pages, from Bottlecap Features.
Disjecta Membra is the second collection of poetry from Audrey Lee. The poems in Disjecta Membra focus heavily on location: moving in and out of Lee's home in Philadelphia, Pennsylvania, to the lived experiences within the confines of institutions in and around the city: academic, medical, societal. Lee's sharp poetic and artistic sensibilities blend with subject matter including recovering from mental illness, unrequited love, and meditations on "being a writer" — whatever that means.

Disjecta Membra is assembled from poetry written by Lee over the past two years. As Lee's first chapbook, Probably, Angels (Maverick Duck Press, 2020) interrogated the coming-of-age experience of girlhood, Disjecta Membra says "now what?" in response to the end of adolescence marked by trauma. Disjecta Membra is Lee's slice-of-life diary of relapse and recovery, infatuation and lovelessness, and continued escape from and subsequent return to home in Philadelphia. What ties the poems in Disjecta Membra together is their constant questioning of what it means to be a writer, and subsequently, an artist.
Lee ties in sentiments of writers who inspired the collection, including modernists such as Sylvia Plath, Raymond Carver, James Joyce, Mary Shelley, and Franz Kafka. The result in Disjecta Membra is a deeply personal collection of poetry that will resonate with the poetic, artistic, and experiential sensibilities of readers.
Audrey Lee is also the author of the poetry collection Probably, Angels (Maverick Duck Press, 2020). She holds a B.A. in creative writing and American studies with a music and media concentration from Franklin & Marshall College. She is the winner of the 2016 DeSales University Poetry Contest, the 2020 Jerome Irving Bank Short Story Prize, and her writing has been recognized by Columbia College of Chicago, the University of Virginia, Ithaca College, and the University of Iowa. Her work has been featured in or is forthcoming from The Sierra Nevada Review, Glass: a Journal of Poetry, DIALOGIST, The Indiana Review, and Teen Vogue. A 2020 Best of the Net nominee by Drunk Monkeys, Audrey is a former resident at Sundress Academy for the Arts. She lives in Philadelphia, Pennsylvania. You can find her on Instagram @eternallyonline, Twitter @postpunkpoet, and online at www.audrey-lee.vercel.app.