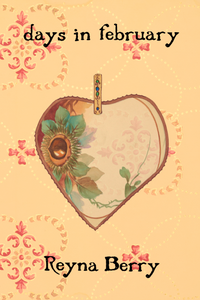 Poetry, chapbook, 28 pages, illustrated, from Bottlecap Features.
An exploration of love in its many shapes and forms, "days in february" includes poems and works of art created by the author. The collection is structured around the 28 days of the month of love, but not all dates are present in typical form—some out of order, some gone altogether. After all, a heart is never straightforward, is it?

The chapbook was written during and around February, 2023, at school and at home, on the bus, typed into Google Docs and Notes apps and scribbled onto napkins. Messiness and imperfection sit inherently in the work. So does experimentation; Berry's writing also mixes genres to create a more full picture of the mind of a young person as she loves others. Sometimes playful, sometimes somber, the book aims to provide a glance into the somewhat complicated wanderings of one person's heart.
Reyna Berry (she/her) is an actor, writer, and student based in Virginia. She has loved storytelling from a very young age and will continue to study it in various forms her whole life. She received a Silver Key and five Honorable Mentions from the Scholastic Writing Awards and has published work in Reveille literary magazine, ARTEMISpoetry, and The Closed Eye Open. Her poem "Season of Red and Gold" was selected for reading at the 2021 Poe Film Festival. Empathy is Creative.