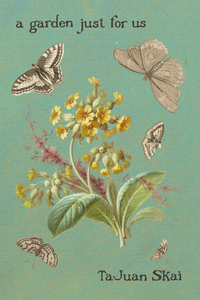 Poetry, chapbook, 32 pages, from Bottlecap Features.
In his debut poetry chapbook, TaJuan Skai utilizes his inner green thumb to the utmost in order to deliver a one-of-a-kind literary garden. Frolicking through the linguistic fields, readers will be left completely immersed in a land of familiar emotions expressed in unfamiliar ways. In its essence, a garden just for us is a chapbook about heartbreak, yet it's the addition of themes such as religion, addiction, and identity that exponentially adds beauty to the work as a whole.

Narratively taking place years after the relationship, Skai fluidly recounts the feelings and love he had for his partner while never pushing too far into the specifics and intricacies of the relationship itself. Little is known about who this person is, or what event led them to become separated in the first place, and it's clear by such titles as "11/8/19" and, most notably, "h," that this is intentional. Skai wants you to know that there is, at the very least, a level of autobiography, a level of reality, to his words, but is actively refusing to allow the whole picture to be clear. It's this mystery that makes a garden just for us so special, for it feels like a secret the reader is being trusted with. Each word feels like trespassing more and more into this relationship and the mind of Skai, while the vagueness and mystique of the work allows the reader to become introspective, and take a deep dive in their own past relationships and longings for past lovers. It's this simultaneous relatability and vulnerability that makes a garden just for us so intimate for all parties involved.

But as previously mentioned, the heartbreak factor of the work is only part of the floral-laced journey. See, while the spreading of love declared in the opening poem, "let's start here," is very clearly and quickly used for his past flame as described in the following poem, "for the star that i once held," Skai effortlessly transitions from romantic love to self-love in the poem "reflection." In both "reflection" and later on, "mama's boy," Skai laments on the idea of fate, and how he feels he's destined to lean in such a way that, one could assume, will lead to self-destruction. However, Skai pivots such a depressing topic and spins it in a triumphant way, determined to find love in himself. And that idea, self-love, is just as, if not, more important than the love he has for his ex-lover.

The final point of discussion of TaJuan Skai's a garden just for us is the biblical allusions that are accented throughout the work. Without even reading the chapbook and just giving the table of contents more than a glance would reveal the title itself is a biblical allusion due to the final poem being titled "eden." While reading, however, things become more and more clear that this is more than a chapbook about mortal love, but love of the beyond. This isn't a traditional description or portrayal of such ideas, however, as the reader becomes very aware early on that the use of religion and references to a higher power is personal to Skai, and Skai alone.

Skai's a garden just for us is a very condensed and intricate read that almost requires multiple readings to fully grasp all of the easter eggs placed. At its simplest, a garden just for us is an example of how pretty love can be. And at its most complex, well, the best way to learn that is to open up a copy, and explore this garden birthed just for you.
TaJuan Skai is a young poet based in Kent, Ohio. Dabbling in writing as a child, Skai has always found a love and passion in creativity. After rediscovering his love for writing, TaJuan Skai began to take a more serious approach to his work, quickly understanding that this love could be more than a hobby, but rather an outlet to achieve his lifelong goal of helping people. While finding some success in the self-publishing realm and a poem titled "The Hourglass" finding a home at the online literary magazine BarBar all under the moniker "TaJuan Ciel," the freshly branded TaJuan Skai is determined to spread a message that only a person with his life experiences and his abstract way of thinking can.