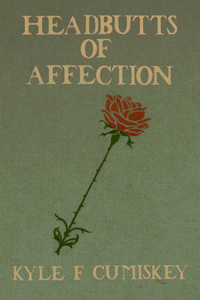 Poetry, chapbook, 24 pages, from Bottlecap Features.
Relationships are jewels, whether polished or tarnished. Headbutts of Affection highlights the shifting ground of romance, teetering back and forth between glory and distress, splicing in feelings of uncertainty. A rhythmic saga of laughter and reflection, this collection of poems ultimately brings you to a place of resolution and renewal.

There is a careful spirit of observing oneself and their lover: shuffling down a street unable to pick a restaurant, overthinking an energetic conversation, sipping whiskey on a curb at midnight, meditating on a boulder about time passing. Relentlessly urban, you will find yourself in the city with each passing poem, twisted up in reality and recollection that encourages a faithful glance back at your own experiences.

Headbutts of Affection is a celebration of bygone interactions and how they shape us. Fourteen poems for the one who looks back on their life and grins, because what else can you do?
Kyle F Cumiskey is a narrative poet residing in Portland, Maine. In 2018, he received his bachelor's degree in English from the University of Southern Maine, and currently works in commercial property management. In 2022, he printed a poetry zine titled Save Friday The Golden Child and created a Substack blog titled Carleton Street, where he sends out poems to subscribers. During the cold bend of the year, you can find him scribbling on legal pads for an indecent amount of time at Arabica, a local coffee shop. In the warmer months, he can be found bicycling wherever there are birds and taking photographs of them. His writings center around his experiences with human interaction, often biographical in nature, always focused on whatever is in front of him.