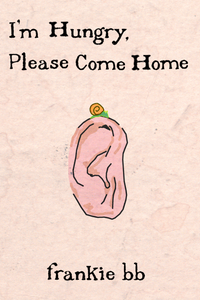 Poetry, chapbook, 32 pages, from Bottlecap Features.
Hunger is the engine in this little book.

Like all books, this one is a cookbook for turkey vultures.

This book contains life-rafts for a bathtub, but you can call them poems.

Alternate titles include: Reinvent a Little Shadow; Heart Curl Up; Puke Sunsets; Woman with Cigarrete / Woman with Gun; Dangerous Glitter; A Poorly Dressed Pantomime; Bad Magic; Give Up the Act, Accept the Furnace; Slug Consideration; Cyphers in the Marquee; These Silent Films Were Particularly Silent; Emergency Exits; Heavy Petty; Keloids; House of Urge; Nuchal Cord Nostalgia; and You Can Dance to Any Song or Rhythm as Long as You Accept that the Moves Might be Jumping Up and Down On a Folding Chair Until It Breaks Underneath You.

I'm Hungry, Please Come Home is a collection of poems that mix the gut punch of song lyric, and the emotional intuition of an abstract painting. It is two-parts romp and one-part melodrama. The speaker is moving through the wilderness of daily life, and the daily life of fantasy. At times it comes off a little awkward, a little bratty, but never dull, and never dishonest.
frankie bb is a map of eyes that have yet to assemble into a crowd, a jaw bone that dislikes being called "mandible" and prefers "crescent catcher." A guilty harvester who believes milk is best served wild. Recent words in: Peach Mag, Bedfellows, B l u s h Lit, and Witchcraft Mag.