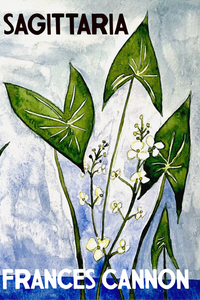 Poetry, chapbook, 36 pages, from Bottlecap Features.
Sagittaria is a chapbook of poems which delight in the natural world, from water lilies to beetles, from domestic dog antics to human folly. The poems also examine the tension between monogamy and polyamory, as well as the sexual identities at odds between interconnected humans: straight, gay, and pansexual. Specifically, the poems trace the edges of longing, the depths of loneliness, the tension of seduction.

You will find lyrical stanzas and narrative poems, ranging from abstract, to philosophical, to minutely specific. Frances Cannon is also a prose writer and visual artist, and these interdisciplinary passions are woven into this collection of poems. She also designed the cover, in collaboration with Bottlecap editor Craig Mullins.

Frances Cannon is the Managing Director of Sundog Poetry, as well as a writer, artist, and instructor. She has previously taught at the Vermont College of Fine Arts, Champlain College, the Vermont Commons School, and the University of Iowa. She has an MFA in creative writing from Iowa and a BA in poetry and printmaking from the University of Vermont. Her published books include: Walter Benjamin: Reimagined, MIT Press, The Highs and Lows of Shapeshift Ma and Big-Little Frank, Gold Wake Press, Tropicalia, Vagabond Press, Predator/Play, Ethel Press, Uranian Fruit, Honeybee Press, and Image Burn, a self-published art book. She has worked for The Iowa Review, McSweeney's Quarterly, The Believer, and The Lucky Peach. Her writing has been published in The New York Times, Poetry Northwest, The Iowa Review, The Green Mountain Review, Vice, Lithub, The Moscow Times, The Examined Life Journal, Gastronomica, Electric Lit, Edible magazine, Mount Island, Fourth Genre, and Vol. 1 Brooklyn. 

Website: frankyfrancescannon.com
Instagram: @frankyfrancescannon
Twitter: @francesartist