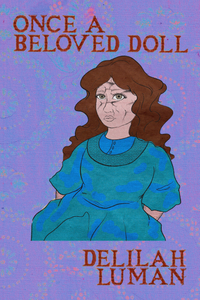 Poetry, chapbook, 16 pages, from Bottlecap Features.
We don't think much of our toys after they're past their prime. Some people cherish them till the end of their days, others go through them and toss out the ones they don't want anymore. Dolls are abused, torn apart, burned, and will never look the same as they were when they were first new. To the author, this is also how people are treated. Whether it be a child abused by adults or a young person trying to figure out lessons in life, people are taken advantage of.

Once A Beloved Doll is a collection of poems that tells the story of a doll who passes through many owners. Some loving, some not, and some are a twisted combination. In some poems the doll can speak her own thoughts. Other poems are told by a new toy owner enjoying their pretty doll.

We experience what the doll feels and sees. In order to feel alive, she must be entertaining and pretty enough to keep the attention and affections of her keepers. Coming to terms with how she's treated and left behind. The chapbook collection will have poems which have deeply sad themes, if you are not in a place to read it, that's okay. You can return to the dollhouse when you are ready.
Delilah Luman is a new author, Once A Beloved Doll will be her first published poetry. She's been writing poetry since she was a child, an outlet for the depression and abuse she experienced in her life. When she started sharing her poetry in class, contests, or with friends, the emotional reaction gave her something she rarely felt in her life; understanding. Even if someone didn't experience those same feelings, the emotion in her words and storytelling would bring the reader in and they would feel those emotions too. Through poetry, she learned how to convey how she felt to anyone who took the time to read and feel it too.