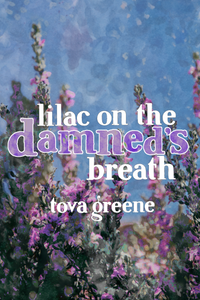 Poetry, chapbook, 40 pages, from Bottlecap Features.
"before my father passed away in 2017, he planted four lilac bushes on the hill outside of my childhood home: one for him, one for my mom, one for my sister, & one for me. the ground in that part of new york is rocky & dry; simply put, they should not have taken to the land. by sheer force of an aries' will, a miracle, or perhaps just a deep love for walt whitman, they're still blooming every spring.
my debut poetry chapbook lilac on the damned's breath is a love letter to loss; to impermanence; to forgiveness (even in the face of abandonment). like the lilacs, it seems impossible—on some days it is—but i promise a new spring will always come."

–tova greene
"lilac on the damned's breath is an emblematic title for Tova Greene's new collection. Greene has a visionary way of evoking intimacy in language which literally inhabits the spaces between people; we are leaning close to the lips of an Other. But the trope channels the action, the closeness, rather than buttressing the speaker... The language is wildly kinetic, but it doesn't flow from subject to object. It inhabits a space like prayer... The eloquence is dazzling in this work. It's impressive that it's always in the service of a psychological arc, a search for truths we might rescue from the fire of experience. It's always beautifully original."
–D. Nurkse, Author of A Country of Strangers: New and Selected Poems (2022)
(trigger warning: this chapbook contains mentions of death, abuse, sexual assault, & bodily harm. lilac on the damned's breath is poetically fictionalized & inspired by works of poetic fiction. as such, it cannot be taken as fact in any way, shape, or form. re: the cliche disclaimer, any resemblance to actual persons, living or dead, or actual events in this chapbook is purely coincidental. it is a cathartic reflection of my perspective, my opinions: nothing more.)