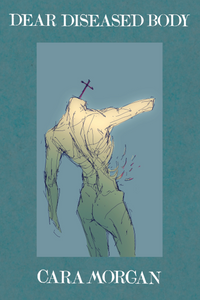 Poetry, prose poetry, chapbook, 20 pages, from Bottlecap Features.
"Body, you have taken and taken and I have tried to give you everything, but my everything is not enough. I have mourned you for so long. When do you cry for me?"

Dear Diseased Body is a collection of poems that tells the story of unknown chronic illness. A journey to diagnosis where the foes are dismissive men in white coats and battles rage in exam rooms. The unfairness of it all creating the anxiety they claim is the cause. An unwilling hero is thrust onstage, armed with only their words. Desperation for an answer eats them alive like a parasite. To be sick and young is to fight like hell for a better tomorrow.

This debut collection from Cara Morgan is about what happens to a sick person when doctors won't believe them. How many young disabled and chronically ill people are left to their own devices: learning, advocating, and healing on their own and with each other. How it's possible to find a better tomorrow — to build one with words.
Cara Morgan is a disabled, neurodivergent, and queer poet and artist from Exeter, Maine. They host a music and poetry podcast on Spotify called the sunshine lounge, and virtual poetry workshops for traditionally marginalized voices to make art. They are passionate about their cats, cool rocks, making playlists, funky earrings, and supporting other creatives. Connect with them on Instagram @caramorganpoet.