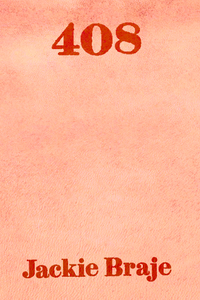 Prose poetry, chapbook, 28 pages, from Bottlecap Features.
"When artist Gregg Emery and I were offered a collaborative artist residency through the organization 4Heads on Governors Island in NYC, we were asked to consider the theme "At Rest & In Motion." From our preserved, colonial-era residency house, 408B, we began to consider memory as a constant state of motion and the present as a state of rest. Sitting in the recent aftermath of my dear friend's sudden and unanswered suicide, this backwards and forwards movement began to mirror the trajectory of grief and all the road signs and messages that present themselves when trying to find the best path back to the present.

In house 408, repeating images, songs, and numbers all became sublime and swollen with meaning while the historic remnants and sharp, modernized angles of Governors Island became a physical embodiment of grief—of remaining stuck in the past while simultaneously being thrusted forward into the future."
Jackie Braje is a Brooklyn based poet. She currently serves as The Chief Operating Officer of The Poetry Society of New York, a 5015(c)-3 non-profit, as well as the editor in chief of Milk Press. Her work as appeared or is forthcoming in Ugly Duckling Presse, Ninth Letter, The Minnesota Review, The Westchester Review, The Quarterless Review, and elsewhere. She was the Fall '22 artist-in-residence at Allerton Park & Retreat Center, the recipient of a 2022 Himan Brown Award, and a 2019 Brooklyn Poets Fellow. She earned her MFA in poetry from Brooklyn College, where she also taught as an adjunct English professor.