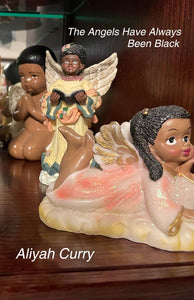 Poetry, chapbook, 28 pages, from Bottlecap Features.
The Angels Have Always Been Black is a metamorphosis of Black girlhood, queer sexuality, God, and family. Through a mix of traditional forms, as well as her own style of verse, the angels will take you up, then down, then up again, weaving hope through all the memories, beloved and triggering, before resting once again on the shelves of Mommy's freshly dusted mahogany shrunk.
This narrative is matured into Black womanhood on these wings, journeying home, earth, riverlands, and sky. Granny braids your hair, a new lover breaks your heart, and Black women prevail.
Aliyah Curry is a queer Southern bred writer, focusing on Black female sexuality and mental health. When she is not writing poetry, she makes film, theater, and photographs, travels, and has dance parties with her niece. Her words can be found in Port City Review, Permission to Write, and Cathexis Northwest Press. Keep up with her and their daughters at https://theirdaughters.productions.