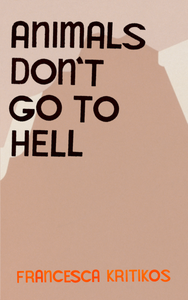 Poetry, chapbook, 40 pages, from Bottlecap Features.
Animals Don't Go To Hell is a love letter addressed to a "you" from an "I" who are both simultaneously predator and prey. Francesca Kritikos explores the wilderness at the limits of lyric and indulges in the desolate. These poems are succinct with sharp edges. These poems are equally sterile and blood-soaked. These poems are asking you to pull them apart.
"To read Kritikos' work is to be confronted with the carnivorous reflection of our own intimacies. Underneath the stillness of the everyday rages the hunger of an unnameable need which can't be satisfied. Before you even realise there's 'no way out' of the poems, Kritikos will 'just let you in deeper' but never show all. You made it to the party but everyone is gone and there's only scraps of meat left on all the plates. No matter how many times I chew these poems, I can never make them last long enough and though I am never left unsatisfied, I always want more."
-Nick Ines Ward, author of The Burns Unit (Salò Press, 2021) and the forthcoming A Devotion of Sonnets (Spam Zine, 2021)
Francesca Kritikos is a Greek-American writer and editor based in Chicago. She is the author of the chapbook It Felt Like Worship (Sad Spell Press, 2017) and forthcoming full-length collection Exercise in Desire (Vegetarian Alcoholic Press, 2022). Her poetry has recently appeared in the Des Pair Quarterly, Ghost City Review and Witch Craft Mag. She completed the undergraduate creative writing program at the University of East Anglia in the UK in 2017. She is on Instagram @fmkrit.