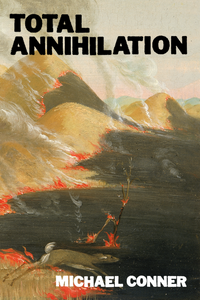 Poetry, chapbook, 24 pages, from Bottlecap Features.
A born-again fundamentalist tells her dying boyfriend that God is testing him; A species evolves for millions of years just to be mowed down by a speeding truck; a young boy finds his pet dog dead in the backyard; An exhausted God is running out of room in Heaven's memorial garden for America's school shooting victims. A vulture circles an empty tomb. Spring returns. A child is born.

TOTAL ANNIHILATION is a collection of poems that focus on the concept of death and resurrection; on the mechanisms of collapse and destruction that transform our ways of being; on asking questions and grasping for beauty and renewal in the mouth of the abyss
Michael Conner is an environmental writer and community advocate based out of Black Mountain, North Carolina, currently working on a Master's program in environmental justice. His poetry has been published in SPECTRA and Shambles literary magazines, and his longform editorial work can be read in Tenderly magazine.