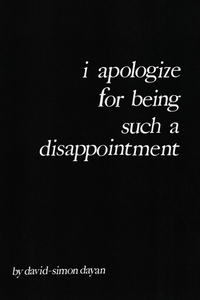 Poetry, chapbook, 28 pages, from Bottlecap Features.
In his debut chapbook, i apologize for being such a disappointment, Dayan turns his gaze inward, reflecting on his struggles with self-love, masculinity and vanity. Within these poems, a tangible sense of both intimacy and yearning pervades, allowing insight into his battles with expectations being raised as a man, loving another man, losing love from another man, and trying to find love for oneself as a queer person.

Confronting depressive desires in a seemingly endless battle with self-acceptance, Dayan explores the desperate search for adoration, in hopes it may provide an antidote. This chapbook serves to confront self-loathing, to witness the roles insecurity and rejection play in the search for love of oneself, seeking a tenderness that celebrates softness, one that subverts toxic masculinity and the hatred the queer community is conditioned to internalize.

David-Simon Dayan (he/they) lives in Los Angeles, Ca. He is an interdisciplinary artist whose work spans across photography, writing, and film. His fine art and fashion photographic work offers an often intimate glimpse into otherness and the avant-garde, maintaining a feeling of understanding and immediacy with his subjects, and has been published in a myriad of publications, such as Vogue, W, The Times, and Out Magazine, as well as housed in the Museum of Fine Arts, Boston. Dayan thinks of writing poetry as a meditative practice, a means of expressing the emotions that seemed to hold stake without a way out. After sharing these writings online, a few found their way into print. i apologize for being such a disappointment is his first chapbook.