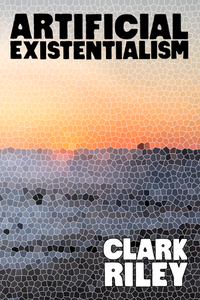 Poetry, chapbook, 28 pages, from Bottlecap Features.
In Artificial Existentialism, Clark Riley invites us to an essential poetic dialogue with our almost present: hyper-intelligence with an unprecedented mastery of human emotions and creativity. How can we prepare ourselves for the coming incursion of technology into the presumed-sacred realm of poetry? How can we summon the empathy needed to find ourselves in collective belonging and survive the crises of meaning and irrelevance? The poems in this lucid and cerebral collection range from revelatory to banal, mixing vulnerability with technicality and blurring boundaries between the authentic and the simulation. 

The cultural reckoning precipitated by the release of ChatGPT has amplified and renewed the existential dilemmas that have plagued poets and philosophers since time immemorial. Engaging directly with Albert Camus' Myth of Sisyphus and The Stranger, Riley highlights an enduring absurdity in the dystopian irony of auto-generated poems and crisis counseling informed by personal data. Artificial Existentialism reimagines the so-called fundamental question of philosophy - life or death - as "the illusion of choice / between an exclusive subscription to assured satiation / and belonging in the collective remainder / of disappointment." 

In spite of dark absurdism and automated kindness, this chapbook challenges the ethics of apathy and reminds us of our interconnectedness as beings within space and time. These poems are founded on an intense grappling with reality and purpose, and Riley expounds the necessity of an entreaty for meaning - not a leap of faith, but an integrity of presence - and implores us not to forsake "the undying longing / for freedom incarnate."
Clark Riley is a human on planet Earth. They are currently a field ecologist and poet based in Colorado. Clark has a degree in visual art from Pomona College and has published climate change data science research in Nature Communications journal. He is a dedicated meditator and volunteers as a crisis counselor.