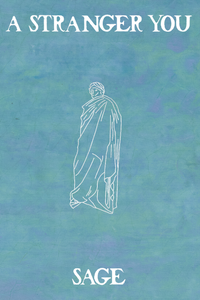 Poetry, chapbook, 36 pages, from Bottlecap Features.
A Stranger You is a collection of poetry in the shadow of the myth of Orpheus and Eurydice, with poems written within their alternating voices. These works navigate the distances around and between family and friendship, and the inability of language to bridge those distances. The poems in A Stranger You come from a period of reflecting on leaving one found family to return to another, and learning that when you've left your heart behind, that hurting hole sits in you "fallow like a country you can't cross but for spite."

Sage's debut chapbook collection, A Stranger You also confronts sexuality, gender, and their intersection within desire: "such is longing's inevitability. whether you sate it or not / you will always be a creature that wants." In lines unafraid of absurdity, these works grapple with the material details of the world. "The doors / open, a man with wings pinned to his shoulder / walks in & everyone who still believes cheers." And in grappling with these new realities, A Stranger You attempts to make of them some sense amidst the loneliness and the longing:

          I am afraid of the ocean. I am in love with the ocean.

          O—
          sweetheart,
          it's the same thing.
Sage received an MFA in Creative Writing from Saint Mary's College of California. They are the founding editor of Saga City. They live and work in Western Massachusetts.