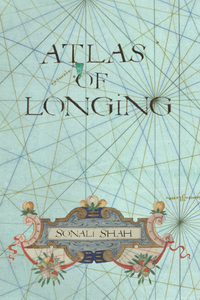 Prose poetry, chapbook, 20 pages, from Bottlecap Features.
Atlas of Longing is a collection of prose poems about grief, longing, and love. Prepare to enter a world of vast oceans and shadows, where emotions are as poignant as rain. Atlas of Longing is a story about wanting things you cannot have, longing for memories, and bathing in despair. It's of sadness, bitterness, and darkness. It's about living with your head in the past even though your feet are planted in the present. It's for the lonely souls with aching heads and hearts. It's for you.
Atlas of Longing is reaching a hand into the author's soul and gathering the rain falling there. It's as close to her heart as the skin that guards it. It contains words written from the heart, meant to touch readers with their honesty and imagery.
Sonali Shah is a writer and science student at McMaster University who was born and raised in Toronto. Her work has been featured in Sour Cherry Mag and will be featured in the April 2022 issue of Intersection Magazine. Sonali's passion for poetry comes from a tumultuous childhood and a deep sense of loneliness growing up. When she's not writing, Sonali is reading, watching medical dramas, and spending time with loved ones, including her beloved cat Lily. Sonali also resonates deeply with her identity as a Pisces. Sonali posts her work on Instagram under the username @sonalispoetry.