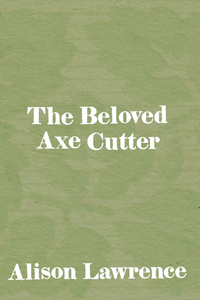 Poetry, chapbook, 16 pages, from Bottlecap Features.
The Beloved Axe Cutter is a slanted glance at an old familiar tale. The Beloved Axe Cutter is so very alone in the woods, but he is faithful in his stead. He is faithful in his work, in his life, in the moment at hand. He is faithful in chopping his word and he is faithful to his beloved forest. His own faithfulness carries him along his days until he comes upon the terror of the monster which has gobbled up Red and her elderly Grandmamma. The faithfulness of his work aids him in becoming a helper and then a hero, though we often don't even remember his name.
In this short poetic retelling, The Beloved Axe Cutter is only in the right place at the right time because his faithfulness has led him to the right place at the right time. What a gift this lesson is, for each of us. To be faithful to ourselves, so that we may get to participate in our own right time and right place.
Alison Lawrence is currently in the process of rewriting her own story, and a piece of that story is found in The Beloved Axe Cutter. While working as a classical educator Alison had the opportunity to reread many of the fairytales western society holds so close, and much of her writing reflects themes found within those stories. Themes like; friendship, grief, loss, faith, love, struggle, sorrow, courage, and cruelty seem to be lost and found over and over, throughout time, including in Alison's own life. Alison is also the author of Mirrors of Myself: Reflections of Lament and you can find more of her work at https://linktr.ee/anobodypoet.