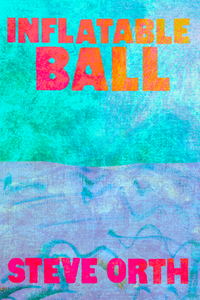 Poetry, chapbook, 28 pages, from Bottlecap Features.
When one finds themself at a loss for anything meaningful to say, it might be a good time to stay quiet and observe. But not if you're Steve Orth. If you are Steve Orth, you just open your mouth and begin speaking a story without any consideration of the facts or conventional logic. Inflatable Ball is Orth's wild speech, a testament to his ability to make up some weird ass shit leading you into a world full of grocery store employees, sad bad dads, bakers, robots, overlords, moms, small woodland creatures, plant enthusiasts, drug dealers, and poets.

Inflatable Ball is the latest from Oakland, CA's Steve Orth, his first collection since the release of his full-length epic The Life & Times of Steve Orth (Dogpark Collective, 2020). Inflatable Ball finds Orth returning to the world of poetry and combining the poetic tradition using improvisational theater techniques in his compositions. The result is 13 hilarious, depraved, confused, horny, pathetic, misinformed, biting poems. Strange stuff for strange times, indeed.
Steve Orth is a poet based out of Oakland, CA. His first book, The Life & Times of Steve Orth, was published by Dogpark Collective in 2020. His recent work has appeared in Hot Pink Magazine, Afternoon Visitor, the Bullshit Lit Anthology, and Trilobite.