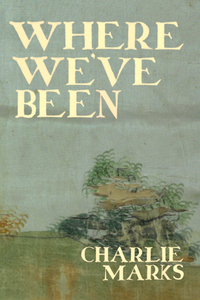 Poetry, chapbook, 24 pages, from Bottlecap Features.
Where We've Been is a collection of poetry that began to coalesce one day as Charlie watched a herd of cows grazing in a desert oasis of grass, tucked between endless stretches of sage and sand. Newborn calves learning to graze and wrestle at the sides of their mothers in a lush valley – learning to live well from their parents, in an environment abundant to their needs.

In a society of "individuals", so many of us have been asked to navigate life untethered from environments and communities that suit us and from the traditions that draw the line between our ancestors and ourselves. We've been raised at the altars of Productivity and Consumption, having little choice but to let our sense of self – and our dreams – be woven for us by a society that will discard us once we are all used up.

Where We've Been grew out of the realization that we all deserve the opportunity to be "cows in a field" – to live within environments and communities where we can flourish and thrive and to play our little part in this ancestral game of humanity.

Where We've Been is a collection of ideas that brought the author a great sense of certainty about this business of being alive and far too conscious – "cow in a field" moments. The words contained within are dedicated to everyone trying to find a way to live well in their own way, as we all navigate whatever-the-hell-it-means to be on this Earth together.

Charlie Marks (they/them) is a folk and roots musician based outside of Reno, Nevada. Where We've Been is their first published collection of poetry and, in many ways, is a natural sequel to their 2021 folk album, Unbecoming. When not on tour, Charlie spends time with their partner, Jenna, learning the ins and outs of homesteading, raising their growing herd of animals - Charlie's gotten the idea they are going to become a potter, but only time will tell. You can check out Charlie's music, tour dates, and other miscellania by heading to charliemarksmusic.com or checking them out on Instagram at @charlie_marks_music. Charlie and Jenna also host the High and Lonesome Podcast, a stoner, old-time music podcast, with advance episodes appearing on Charlie's Patreon page: patreon.com/chrlzmarks.