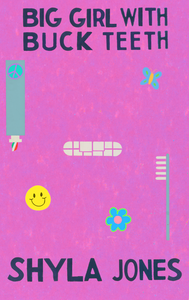 Poetry, chapbook, 24 pages, from Bottlecap Features.
Girls, girls, girls.
BIG GIRL WITH BUCK TEETH is an exploration of girlhood as it exists for those who don't look like everyone else. This collection of poems dissects what it means to grow up as an unwanted being, by the world, by peers, by yourself. Weaved between lines of poetry and prose are tales of being Black in Catholic school, uncovering queerness, fatness, trauma, desire, mental illness, compulsions, and more.
Shyla Jones is a Black writer from Boston, MA. Her work has appeared in or is forthcoming in Four Way Review, Los Angeles Review, SmokeLong Quarterly, Fractured Lit, and others. She is the Editor-in-Chief of superfroot magazine and a lover of peach rings. On top of collecting nostalgic toys and ranting, she's also currently finishing her BFA and working on her first novel. See more of her work at shylajones.com.