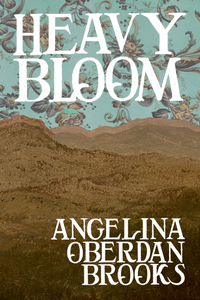 Poetry, chapbook, 32 pages, from Bottlecap Features.
The poems in Heavy Bloom move from watching an 18-wheeler strike a blue heron to being stalked by a mountain lion in West Texas to considering the carelessness with which we harm each other. The originating images in these poems are memories or fragments of language that Angelina Oberdan Brooks collected as she found a way to bloom while processing loss on all fronts. Her hands largely stopped working, which led to a diagnosis of rheumatoid arthritis and a disintegration of the life she'd planned. Her father's cancer became terminal, and he slowly died at home—over months and then days. To all of this, the relationship she was in didn't hold up. Unable to cope, Brooks moved herself and her three dogs into an SUV and solo-camped from the Blue Ridge in NC to the Uintas in UT.

Brooks collected fragments of images and language as she roadtripped across the country. She dives deep into Robert Bly's Leaping Poetry and follows each initial image through to its wild associations.

Through writing these poems, Brooks learned what she already knew: America is beautiful and horrifying. Indeed, death is more certain than life, and loss is more common than love. We want to turn towards our screens and away from any discomfort, but we can't. Richard Wilbur wrote that "[o]ne of the jobs of poetry is to make the unbearable bearable, not by falsehood but clear, precise confrontation"; the poems in Heavy Bloom sit with the uncomfortable, look at loss directly, and hope to make way for future joy.
Angelina Oberdan Brooks earned an M.A. in English and an M.F.A. in Creative Writing (Poetry) at McNeese State University in 2010, where she began teaching writing. Brooks has since held a variety of teaching positions at both community colleges and research universities; currently, she teaches at the University of North Carolina-Charlotte. Brooks's poetry, essays, and reviews have appeared in many journals, including Cold Mountain Review, Litmosphere, Italian Americana, Rain Taxi, and the Southern Indiana Review. Her first textbook, A Creative Introduction to Technical Writing, came out from Kendall/Hunt in January 2023. Her prior textbook projects have included working on Thomas Oberdan's Science, Technology, and the Texture of our Lives (Tavenner Publishing Co. 2017), serving on the faculty advisory board for The Hub by Peter Adams (Macmillan 2020), and collaborating on the instructor's manual with Elizabeth Catanese for Alfred Rosa and Paul Eschholtz's fourteenth edition of Models for Writers (Bedford St. Martins 2021). She wrote the introduction to a bilingual collection of poetry by Elisa Bagiani (Guest in the Woods, Chelsea Press, 2013). Brooks is the executor of the Daniela Gioseffi Literary Estate; the Daniela Gioseffi Papers are currently housed in the American Collection at Yale's Beinecke Library. She co-edited a collection of essays by and about Daniela Gioseffi, Pioneering Italian American Culture: Escaping La Vita Della Cucina (Bordighera Press, 2013).