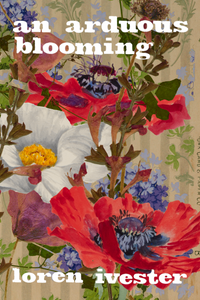 Poetry, chapbook, 36 pages, from Bottlecap Features.
An Arduous Blooming is a raw insight to growing up through repetitive hardship and "blooming" into someone stronger because of it. This book provides a safe place for anyone who was forced to mature at a young age, for anyone who has stumbled through love, and for those who have chosen to press forward. It is a medley of despair and hope, romanticism and realism, and doubt and reassurance. Loren highlights the lowest points of her past and the higher points in her present and future. In this collection, she navigates her young love experiences, her haunting memories- good and bad, and her quest through self-discovery.

This is Loren's first creation! In An Arduous Blooming, Loren puts her truth in the spotlight. It is an assemblage of free-verse poems and stories that follows her journey of growing up with mental illness, surviving heartbreak, and ultimately growing because of her strife. Each piece representing core happenings through her life, Loren reaches into memories to promote healthy and inevitably slow self-healing. She hopes others with similar stories can find solace in her pieces. Loren dedicates this small collection to her family, dear friends, and to those who will always hold a piece of her heart.
Loren is a 22 year old college student from Raleigh, North Carolina. Despite this being her first public collection, she has been writing for many years. She is a dog mom, an avid reader of poetry, and a lover of nature. Loren hopes to pursue her passion for literature and writing through teaching English.