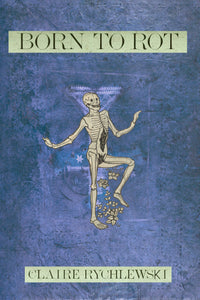 Poetry, chapbook, 36 pages, from Bottlecap Features.
Born to Rot asks: what was the body made for and who decided? In pursuit of an answer, this collection unearths delight, disgust and despair in equal measure. The poems in Born to Rot shift perspective between a 'cartoon man' with a predilection for the surgically enhanced silhouette, and a narrator whose tenuous relationship with her own corporeal form is beginning to unravel. Throughout the book, the question of bodily autonomy blurs as both characters fight for the right to ownership.
This collection is an exhale and an expulsion. This collection is about choking on sea water, about trying to stay alive in a world intent on depleting us. Tense and desperate, these poems beg you to look at the ugly long after everyone else has averted their eyes.
Claire Rychlewski is a writer living in Chicago. Born to Rot is her first chapbook. Her work has been featured in the Portland Review and MoonPark Review, among other publications.