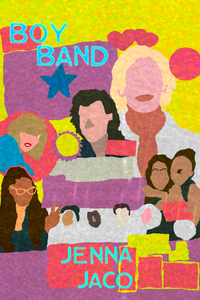 Poetry, chapbook, 44 pages, from Bottlecap Features.
Get your lipgloss on, lads—we're exploring performance, gender, and desire under capitalism! BOY BAND dunks you into a pit of perfume samples, licensed merchandise, fast food menus, and glossy magazine spreads where every heartthrob divulges their likes, dislikes, and most embarrassing moment. With a style that flickers between conversational and experimental, BOY BAND seeks to make sense of this detritus.

Boy bands themselves serve a unique cultural function—they're safe, distilled packages of masculinity and devotion. They do not threaten; they cannot let you down. At the same time, their existence furthers some of the most unsavory aspects of late capitalism and cisheteronormativity, the latter of which is honestly weird considering some of those outfits.

In BOY BAND, one poem takes you to the strangest carousel you've never seen. Another gives instructions for becoming your own teen idol. An annotated calendar walks you through a month of undulating gender expressions. As a whole, these poems examine the relationship between performers and observers of all kinds, the bizarre gender escapism a boy band offers, and the modern-day imperative to collect them all, choose your favorite, and love it until it hurts.
Jenna Jaco is a writer, small object collector, rom com apologist, and faffer-about from Austin, Texas. They have a background in rhetoric, literature, technical writing, and information architecture, and studied poetry in translation on a Fulbright grant to Korea. She has published work in Hobart, Peach Mag, Rejection Letters, and elsewhere.