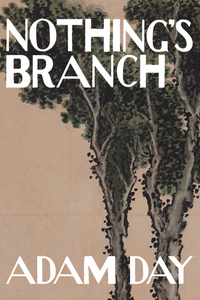 Poetry, chapbook, 32 pages, from Bottlecap Features.
Nothing's Branch is composed of short lyrical meditations and narratives that wrestle with issues of the environment, spirituality, and human relationships by way of addressing both the commonality and complexity of people and experience. These poems serious and bawdy, reverential and impertinent, accessible and eclectic, yet they are unified in their tone, atmosphere and sensibility.

Adam Day is the author of Left-Handed Wolf (LSU Press, 2020), and of Model of a City in Civil War (Sarabande Books), and the recipient of a Poetry Society of America Chapbook Fellowship for Badger, Apocrypha, and of a PEN Award. His work has appeared in the APR, Boston Review, The Progressive, Volt, Kenyon Review, Iowa Review, and elsewhere.