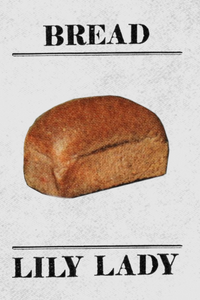 Poetry, chapbook, 28 pages, from Bottlecap Features.
BREAD's intellectual raison d'être is the revolutionary text The Conquest of Bread by Peter Kropotkin. First published in 1892 by the Russian anarcho-communist, it critiques capitalism for its perpetuation of material and cultural scarcity. Kropotkin writes that of course, the much-needed social revolution will provide bread for all, but it is art, scientific discovery, and above all, leisure that is "the supreme aim."

In BREAD, Lady catalogs their own personal history in the pursuit of bread. Holding jobs as a nanny, sex worker, high-end restaurant server, and more, this collection of poems illustrates the alienation of labor and the performativity of gender in the working world.

Lily Lady is an artist and filmmaker from New York City. Lily's full-length poetry/photography collection, quickie, was published through dream boy book club in 2022, and Lily's forthcoming feature film, Sam's World, is currently in post production.