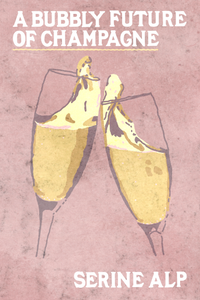 Poetry, chapbook, 32 pages, from Bottlecap Features.
A Bubbly Future of Champagne is a story of someone who doesn't yet know who they are, or who they want to be within this ever changing world. This collection asks the why: Why do we go through life, teetering on the edge between unequivocal doom and unrivaled joy? Why do we continuously love, even when those around us have given no reason for us to carry on? And why do we find comfort in words, places, and people who rouse and reawaken nuances in our individual identities? Why do we do it all?
In her chapbook, Serine Alp is surrounded by words of self discovery amidst the ins and outs of the wistful asking of love that only a young - and surely naive - soul has the freedom to ask.
Serine Alp rediscovered the role of amateur poetry and its power while she was attempting to write her college essays. She will be attending university next year to study math, and hopes to be able to continue writing and creating chapbooks amongst the chaos of being an 18 year old.