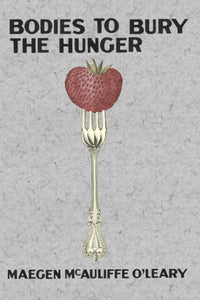 Poetry, chapbook, 32 pages, from Bottlecap Features.
Bodies to Bury the Hunger is a collection of poems exploring the ecstatic and parasitic nature of love. Love is presented as a pact of mutual survival - between lovers, between mothers and their children, and between the body and the self.

From the euphoric terrain of physical love to the grief-wracked desire for a miscarried child, the poems articulate the almost unbearable weight of loving as a women and ask, can we give of ourselves without compromising autonomy? How do we survive the strain between love's dual-natured powers of creation and destruction? Is it even possible to love wholly and still remain whole?

Maegen McAuliffe O'Leary is a poet and mother from the Pacific Northwest. Her work focuses on the intersection of feminism, matrimony, motherhood, magic, the human body, and its place in nature. Her work will appear in upcoming publications from Querencia Press and Quail Belle Magazine. She currently works for a non-profit corporation focused on water quality and conservation, but she would love to quit her job to spend her days writing poetry and talking to the crows.