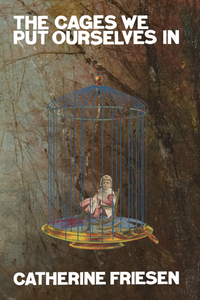 Poetry, chapbook, 32 pages, from Bottlecap Features.
The poems found in The Cages We Put Ourselves In were not, at first, intended for an audience. They were written over a period of tumultuous years when life oscillated between infatuation, indecision, and loathing–of the self and others. The poems were written on napkins in the back of coffee shops and typed into a notes app at 2 a.m. and spoken to friends over the phone. They were containers, elegies, odes, and banishments. They were promises and renunciations.
In essence, The Cages We Put Ourselves In is a succinct excavation of what it means to be human. It examines the line between want and need and investigates the polarities of who we want to be and who we actually are. It follows the thread of existence in relation to the self and others, its illogical timeline warping from past to present and back again. The Cages We Put Ourselves In is a fluid representation of who we are at our best and our worst, and is a case study of unexpected correlations and inevitable outcomes.
While The Cages We Put Ourselves In is a personal chronicle, it is also a record of the universal experience: to feel deeply–to know what it is to hold and be held, to distance and be distanced from–is what we do as humans. Our connection to others comes in waves; it's up to us to find ways to weather them.
Catherine is a writer, editor, sometimes illustrator, and all-around nature lover living on the side of a mountain. They majored in psychology and creative writing in their undergrad and are currently working through art therapy grad school. Their work has been published in a number of online and print journals, and they are currently working on their first full-length poetry collection. When Catherine isn't reading or writing, they can be found baking cakes, singing to their plants, or getting lost in the woods.